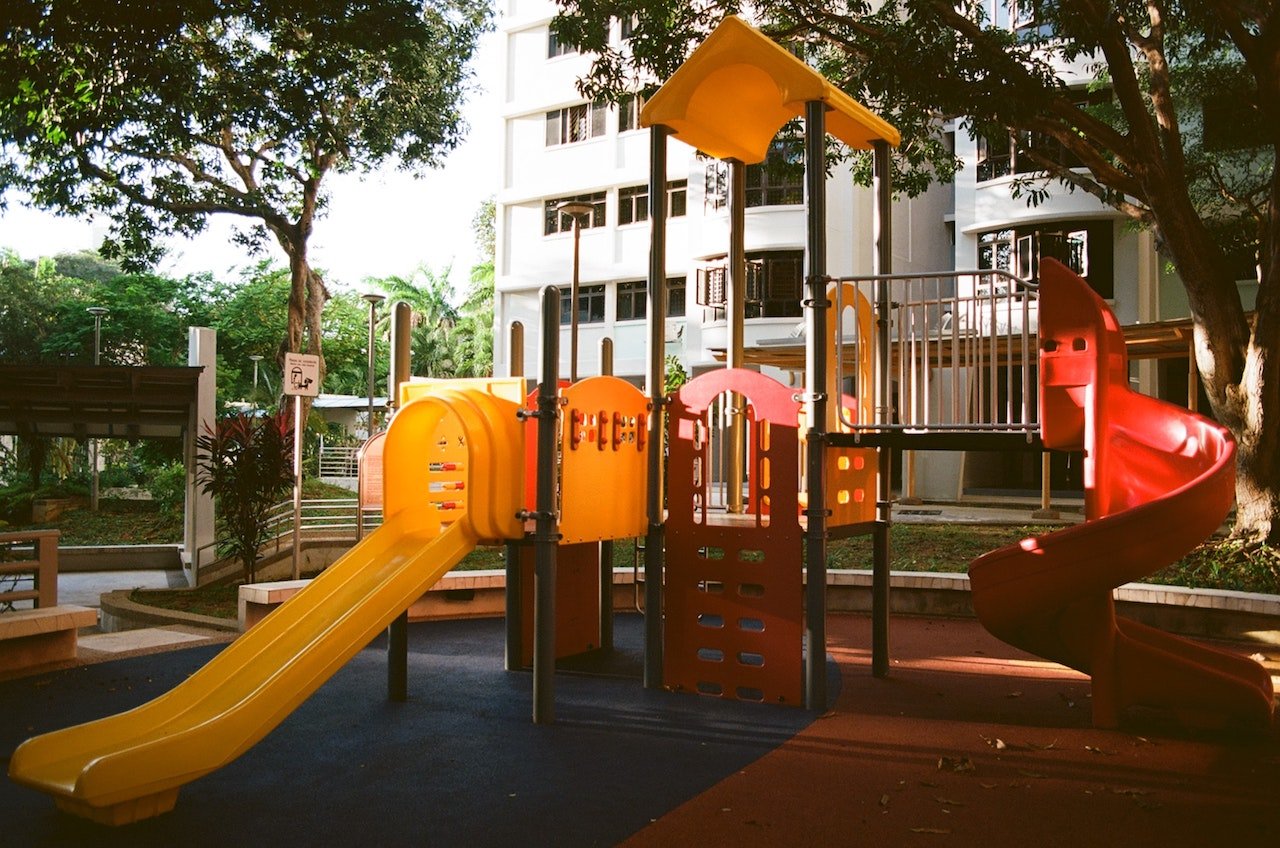 Best Rubber Flooring Options for Playgrounds
Known for its durability, resilience and enhanced safety features, rubber flooring has become the most sought-after option for playgrounds, athletic surfaces and equestrian facilities. Rubber flooring is created from recycled rubber products, and can be applied in a variety of indoor and outdoor settings in order to create a look that is not only aesthetically pleasing but also functional.
Benefits of Rubber Flooring on Playgrounds
In particular, rubber flooring is ideal for use on indoor and outdoor playgrounds. Playgrounds are high-traffic areas that are intended to be a free space for children to play, so the surfacing material that builders choose is incredibly important.
Playground rubber flooring is the best surfacing solution because:
It is the safest surfacing material for young children. Rubber is naturally buoyant, which helps to protect children when they suffer from those inevitable falls on the playground.
It is incredibly durable, and able to withstand the impact of high traffic volume.

Playground rubber mulch

and poured-in-place rubber are both long-lasting, durable surfacing solutions that will not need to be refilled, replaced or repaired on a regular basis. Even with children constantly running and jumping on the playground, your surface will continue to look as beautiful as it did on the day it was installed.
It is a low-maintenance option, which is ideal for community organizers, school officials and business owners. With minimal short-term and long-term maintenance required, this is the type of surfacing solution that you can enjoy for many years to come without the hassle of ongoing issues.
While playground rubber mulch and poured-in-place rubber are two ideal options for playground surfacing, it's important to choose a surfacing material that is created from high-quality, durable rubber. Selecting a vendor that is an experienced, thought leader in the rubber product industry is the best way to ensure that you are getting the high-quality, durable material that you need for your playground project.
Types of
Playground Rubber Flooring
There are several types of playground rubber surfacing available. These are the most common types of playground rubber flooring:
Rubber Mulch
Similar in appearance to natural wood mulch, rubber mulch is a loose-fill surfacing material that is created from recycled rubber materials. Rubber mulch is not only used on playgrounds, but also in gardens and landscaping in order to protect soil and filter water. Playground project managers often select rubber mulch because of its durability, affordability and ability to provide children with a cushioned surface. However, it is prone to redistribution across the area and sometimes needs to be refilled on a regular basis in order to maintain fall height requirements.
Rubber Tiles
Also made from recycled rubber, rubber tiles are a versatile flooring solution that can literally be locked into place on a playground area. Typically available in square shapes, rubber riles are available in a wide range of colors. They tend to cost a bit more than rubber mulch, but you will not need to invest in refilling in order to maintain your fall height requirements. However, the lock-in-place nature of the tiles can limit the size and design of the playground area.
Poured-in-Place Surfacing
Poured-in-place rubber surfacing is an ideal option for playground designers, because it offers the most versatility in playground design and will last for the longest amount of time. Poured-in-place rubber is installed directly on the playground, and will last for more than a decade if you maintain it properly. It may be the most expensive playground rubber flooring solution, but it also offers the largest return on your investment in terms of safety, durability, longevity and appearance.
Factors to Consider When Choosing Rubber Flooring
There's a lot to consider when it comes to choosing the rubber flooring that is right for your playground or athletic facility. These are a few factors that you should think about before you make your final decision:
Safety Standards and Certifications
The primary factor to consider when selecting playground rubber material is safety. The playground is an area that will be used by young children, and it is imperative that you give them a safe space to run, play games and enjoy their friends. When it comes to choosing the safest rubber material for your playground, you will want to select granules that:
Processes high-quality recycled rubber materials. Tires are commonly used for these granules, but it's important to find a vendor that does not accept used tires, as that could introduce a variety of toxins or debris into your rubber surfacing.
Specializes in synthetic rubber that is known for its buoyant features, allowing it to cushion the fall of any children who are playing on the playground.
Budget Considerations
Naturally, you will want to consider the cost of the surfacing material that you choose. The size of your playground area and the scope of your project will have an impact on how much you are able to spend on your playground rubber flooring, but it's important to keep in mind the following as you create your budget:
Playground rubber

created from high-quality recycled materials may cost more, but the material will last longer than other, more affordable options.
The initial cost of a particular flooring solution may be less, but the maintenance costs could increase over the course of the surface's lifespan. For example,

playground rubber mulch

is an inexpensive option, but it requires regular refills and does not last as long as poured-in-place rubber.
Climate and Weather Resistance
The location of your playground will play a significant role in the type of flooring solution that you choose. For instance, if you are installing an indoor playground, you will likely not want to choose rubber mulch, as it can easily get redistributed around the indoor space.
If you are installing an outdoor playground, you will want to take into consideration your current location and the regional climate. A playground located in an area that experiences the four seasons may have different flooring solution needs than a warm-weather destination.
Installation and Maintenance Requirements
The installation and maintenance requirements will vary based on the type of playground flooring solution that you choose. You will want to consider the size and location of your playground, as well as the ability of your organization to invest in continuous maintenance, as you make your final decision. For example, poured-in-place rubber surfacing must be installed by experienced professionals, but you will find that it requires minimal maintenance over its lifespan. With rubber mulch, you may be able to save some money on the initial installation costs, but you will likely be required to invest more in maintenance over the long-term.
Maintenance and Safety Tips
While playground rubber surfacing is known for its durability and longevity, these maintenance and safety tips will ensure that you can maximize the lifespan of your surfacing solution:
Remove debris from the playground surfacing on a regular basis. Items such as empty plastic bottles, old toys, pacifiers and winter hats are commonly found on playgrounds. By removing these items and disposing of them appropriately, you can reduce the impact of wear and tear on the rubber surfacing.
Address any spills on the playground surfacing as quickly as possible, in order to prevent lasting damage from occurring.
Routinely inspect the surfacing material in order to verify that rubber granules are not coming loose. Remind playground users that they should not ingest or consume the rubber granules.
Order Materials for Rubber Flooring at Sparton
No matter what type of playground rubber surfacing you select for your project, it's important that you secure your rubber materials from the leading provider in the industry. With more than 50 years of experience manufacturing the most high-quality recycled rubber materials, Sparton Enteprise can provide you with the solution that you need for your project. Request a quote below!